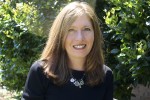 Jeanne Chapman
Director of Youth Ministry
.(JavaScript must be enabled to view this email address)
Jeanne Chapman is the fearless leader of the St. Mark's Youth Ministry. She was called to St. Mark's in April of 2011 after serving churches in Missouri, West Virginia and Indiana. She has over 13 years of youth ministry experience. She was born and raised in St. Louis (go Cardinals!) and still craves Imo's pizza and Ted Drewes!
Jeanne's hobbies include: watching her kids play sports, playing sports herself, drama, interpretive sign language, easy crossword puzzles, hanging out with teenagers, and reading. She loves to laugh and to make others laugh. Jeanne's passion is using the gifts God has given her to reach this generation for Christ. She is a gifted and passionate speaker who is able to share the timeless truths of Scripture in a compelling way.
Jeanne is married to Ed (her support and co-laborer with youth) and they have four amazing children: Kristen (married and gone!), Connor, Carter and Carson. They also have two dogs, Zoe and Bailey. The Chapmans are so excited to serve the families and community at St. Mark's.