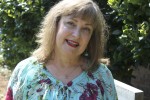 Delores Seward
Administrative Assistant
.(JavaScript must be enabled to view this email address)
Delores is a native of Rankin County. After high school, she continued her education at Whitworth College in Brookhaven. She received a Bachelor of Science degree in Business Education with a minor in English. Delores has two grown sons, Brad and Wes.
Delores has worked in other local churches, in various roles in the preschool and office departments.
Delores has served as Administrative Assistant of St. Mark's since January 2004.